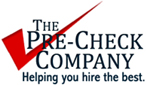 Effective 6/1/2007
The Pre-Check Company website is intended for multiple uses. It is a portal for clients to access their reports and order services. It is a portal for job seekers to apply for positions with Pre-Check client companies, and it is a site for providing information about background checking and information related to background checking by The Pre-Check Company to the general public.
The Pre-Check Company provides articles and information of interest directly on the Pre-Check website. This content is purely informational in nature and may not be construed as legal advice. Any questions that arise due to information provided on this site, or linked to or from this site, must be directed to the appropriate legal counsel. By accessing and/or using this website the site visitor acknowledges this disclaimer and agrees to be bound by the further terms and conditions set out below.
The information contained on this site may contain typographical errors, technical inaccuracies or omissions. The Pre-Check Company pledges to update this website frequently in order to best serve our clients and visitors. We do not promise any notice will be provided to visitors or clients of site updates. At our discretion, certain portions of the website or updates to it may be highlighted in e-mail or by postal mail for improved navigability and additional features of interest to our clients' in the course of regular correspondence with our clients. We do not send unsolicited e-mail or postal mail at any time or under any circumstances. See our privacy policy below for more information.
The Pre-Check Company occasionally links to other sites in order to provide useful information to our site visitors. The content of those sites is not under the control of The Pre-Check Company, nor do we derive any material benefit from providing these links. A site visitor's use of the information obtained through these links is entirely at his or her own discretion and at his or her own risk. We make no warranties or representations as to the accuracy or timeliness of any information on any third party sites linked to or from The Pre-Check Company website.